Cheese Board Indulgence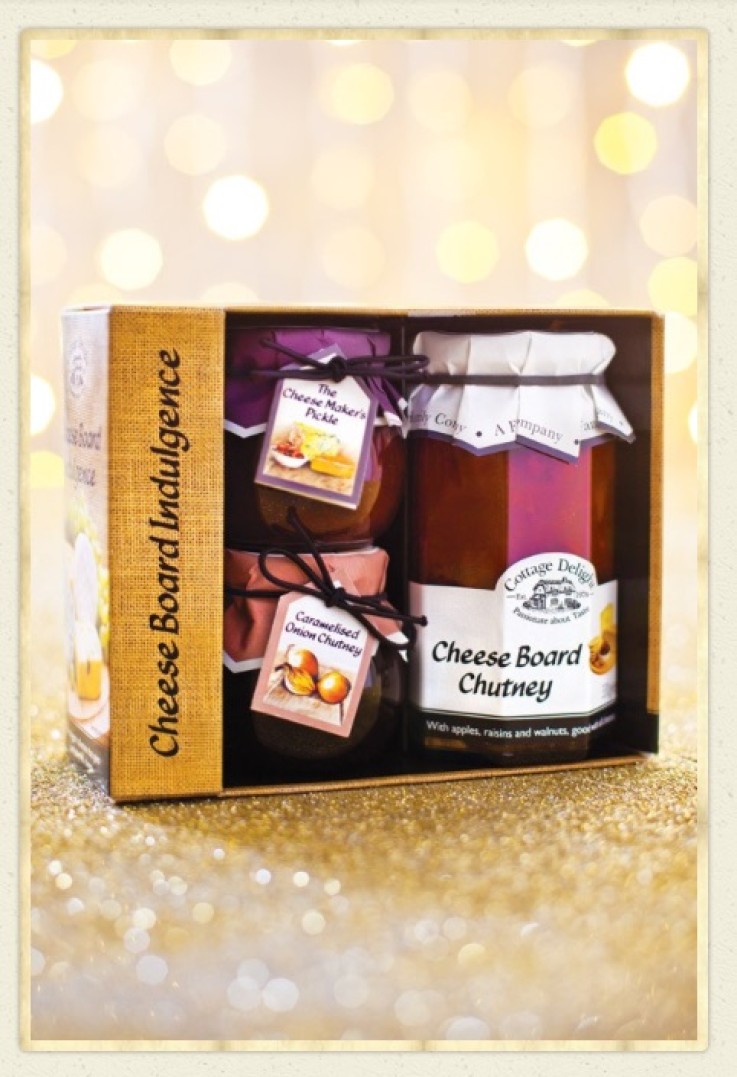 Cheese Board Indulgence
Inspirational flavour combinations that all lovers of all varieties of Cheese will enjoy.
This unique themed gift box includes: The Cheese Maker's Pickle, Caramelised Onion Chutney and Cheese Board Chutney.
Cheese Board Indulgence Ingredients:
The Cheese Maker's Pickle
INGREDIENTS: Demerara sugar, Cider vinegar, Carrots, Onions, Rhubarb (10%), Golden syrup, Plums (7%), Blackcurrants (7%), Blackberries (7%), Worcestershire sauce (Vinegar, Water, Malt extract (from Barley), Sugar, Salt, Seasoning (Contains Soya), Wine, Natural flavouring, Yeast extract, Colour: Ammonia caramel), Concentrated tomato purée, Spices.
Caramelised Onion Chutney
INGREDIENTS: Onion (51%), Sugar, Balsamic vinegar (Wine vinegar, Grape must, Colour: Sulphite ammonia caramel, Preservative: Sulphur dioxide), Muscovado sugar, Extra virgin olive oil, Spices, Concentrated lemon juice, Garlic powder, Citric acid, Salt.
Cheese Board Chutney
INGREDIENTS: Apple (40%), Sugar, Cider vinegar, Raisins (5%), Walnuts (3%), Gelling agent: Pectin, Stem ginger, Salt, Ground ginger.
---
Categories: Christmas, Cottage Delight, Spice Racks & Gifts
Tags: Buy, Caramelised Onion Chutney, Cheese, Cheese Board Chutney, Chutney, Cottage Delight, Cottage Delight Cheese Board Indulgence, Cottage Delight Christmas Gifts, Cottage Delight Christmas Presents, Herb, Herbs, Online, Pickle, Shop, Spice, Spice Shop, Spices, The Cheese Board Chutney, The Cheesemakers Pickle