Balsamic Dressing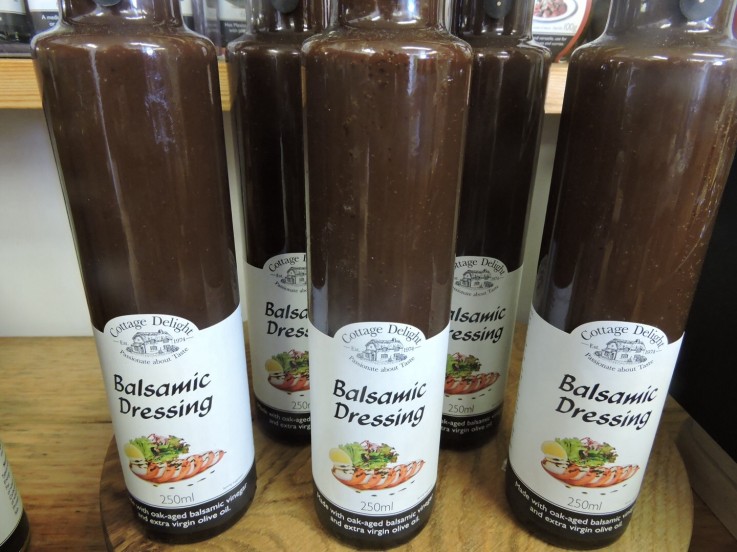 Balsamic Dressing
Perfect accompaniment to any crisp Salad. This classic combination of oak-aged Balsamic Vinegar and Extra Virgin Olive Oil creates a deeply rich flavoured dressing for every occasion.
Try Balsamic Dressing with an Insalata Caprese (Tomato and Mozzarella Salad), add a dash to Sauces or drizzle over Pasta dishes.
Balsamic Dressing Ingredients: Balsamic Vinegar (40%) (Grape must, Wine Vinegar, Colour: Sulphite ammonia Caramel, Preservative: Sulphur dioxide), Demerara Sugar, Extra Virgin Olive Oil (13%), French Mustard (Water, Spirit Vinegar, Mustard Flour, Salt, Sugar, Colour: Ammonia Caramel, Spices, Herbs, Stabiliser: Xanthan gum, Tarragon Oil), Tomato Purée, Cider Vinegar, Raw cane sugar, Onion, Roast Garlic Purée, Preservative: Potassium sorbate, Fresh Garlic, Salt, Lemon Juice, Spices, Stabilisers: Xanthan gum; Guar gum.
Gluten Free, Vegetarian
250ml
sorry currently out of stock

---
Categories: Uncategorized
Tags: Balsamic Dressing, Balsamic Vinegar, Cottage Delight, Cottage Delight's Balsamic Dressing, Dressing, Extra Virgin Olive Oil, French Mustard, Garlic, Gluten Free, Insalata Caprese, Lemon Juice, Mozzarella, Mustard, Olive Oil, Onion, Pasta, Roast Garlic Puree, Salad, Sauce, Sauces, Spice, Spices, Tarragon, Tarragon Oil, Tomato, Tomato and Mossarella Salad, Tomato Puree, Vegetarian