Wasabi & Ginger Dressing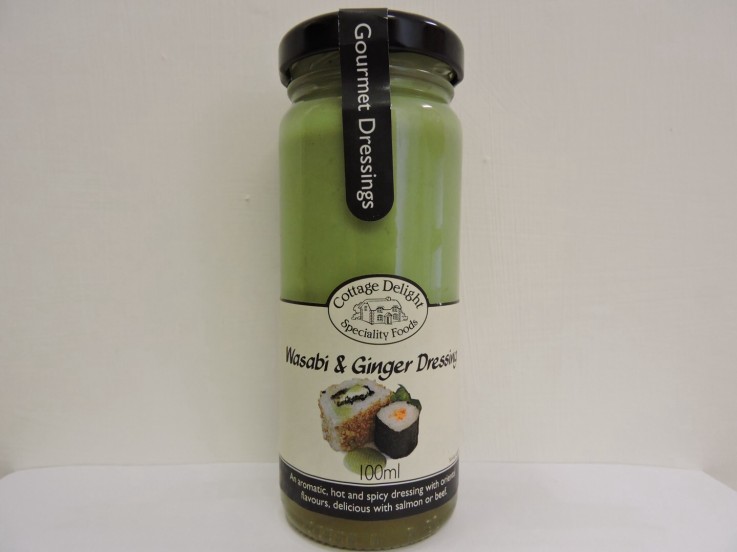 Wasabi & Ginger Dressing
Aromatic, hot and spicy Asian inspired gourmet dressing with oriental flavours. This Wasabi & Ginger Dressing is delicious with Salmon or Beef and great to finish off a fresh green Salad.
You could also use the Wasabi and Ginger Dressing to toss through cooked chicken for a more oriental gourmet taste or try on a Seafood platter or classic Fish or Beef Ceviche.
Wasabi & Ginger Dressing Ingredients: Ginger Syrup (25%), Sunflower Oil, Vinegar, Water, Ginger (5%), Mustard Seeds, Wasabi Powder (5%), Honey, Egg yolk, White Balsamic Vinegar, Salt, Spices, Citric acid, Sugar, Rosemary extract, Garlic Oil, Colour: Copper chlorophyll.
100ml
Gluten Free, Vegetarian
SORRY OUT OF STOCK

---
Categories: Uncategorized
Tags: Beef, Beef Ceviche, Cottage Delight, Cottage Delight Wasabi & Ginger Dressing, Dressing, Fish, Garlic Oil, Ginger, Ginger Syrup, Gluten Free, Gluten Free Dressing, Honey, Mustard Seeds, Rosemary, Salad, Salmon, Salt, Seafood, Spice, Spices, Sunflower Oil, Vegetarian, Vegetarian Dressing, Wasabi, Wasabi & Ginger, Wasabi Powder, White Balsamic Vinegar