White Truffle Dressing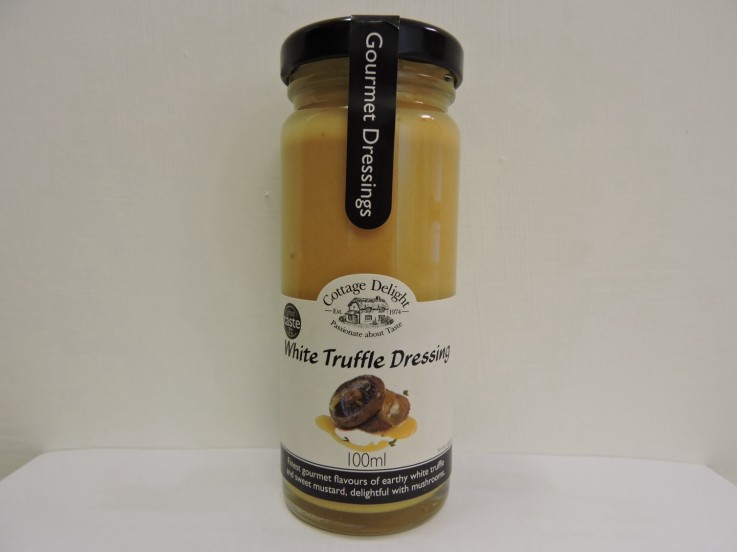 White Truffle Dressing
Created with gourmet flavours of earthy White Truffle and sweet Mustard, our new White Truffle Dressing is delightful with Mushrooms or added to a Rocket and Parmesan Salad.
The complex yet delicate White Truffle flavour adds a luxury twist to this decedent dressing, creating an indulgent savoury treat to your favourite dishes.
Try this gourmet White Truffle Dressing drizzled over baked Eggs and grilled Goat's Cheese, or over Artichoke and Asparagus Tarts.
White Truffle Dressing Ingredients: White Balsamic Vingear (Contains Preservative: Sulphur dioxide), Sunflower Oil, Sugar, Mustard seeds, Vinegar, Water, White truffle (4%), Spices, Salt, Natural flavouring.
100ml
Gluten Free, Vegetarian

---
Categories: Uncategorized
Tags: Artichoke, Asparagus Tarts, Cheese, Cottage Delight, Cottage Delight White Truffle Dressing, Eggs, Gluten Free, Gluten Free Dressing, Goats Cheese, Mushrooms, Mustard, Mustard Seeds, Parmesan Salad, Rocket, Salt, Spice, Spices, Sunflower Oil, Truffle, Vegetarian, Vegetarian Dressing, White Balsamic Vinegar, White Truffle