Festive Indulgence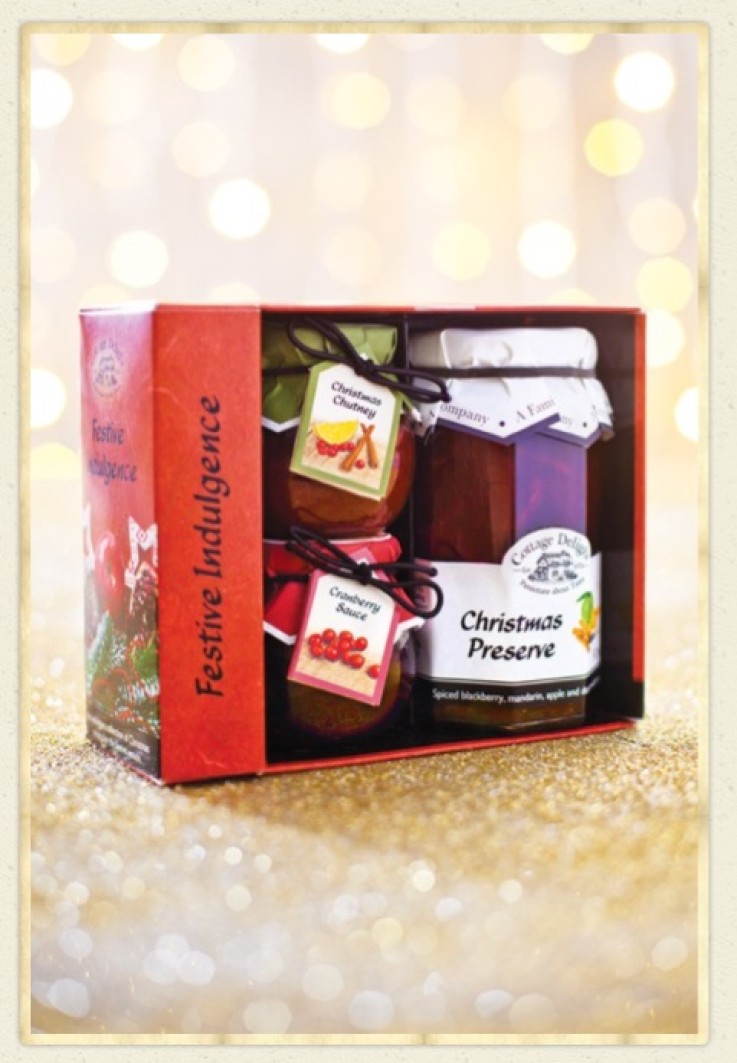 Festive Indulgence
A delicious selection for lovers of special Christmas food.
Includes Christmas Chutney 113g, Christmas Preserve 340g and Cranberry Sauce 110g.
All your favourite festive flavours to add a little extra luxury to the Christmas season.
Festive Indulgence Ingredients:
Christmas Preserve
INGREDIENTS: Sugar, Blackberries (15%), Mandarins (15%), Bramley apple (10%), Dates (5%) (Contain Rice flour), Gelling agent: Pectin, Brandy (2%), Citric acid, Concentrated lemon juice, Processing aid: Salted butter (from Milk), Cinnamon.
Prepared with 45g of fruit per 100g. Total sugar content 65g per 100g.

Christmas Chutney
INGREDIENTS: Cranberries (34%), Sugar, Cider vinegar, Oranges (5%), Sultanas, Dried onion flakes, Muscovado sugar, Bramley apple, Concentrated orange juice, Spices, Citric acid.
Cranberry Sauce
INGREDIENTS: Sugar, Cranberries (40%), Muscovado sugar, Citric acid, Processing aid: Salted butter (from Milk).
SORRY OUT OF STOCK
---
Categories: Christmas, Cottage Delight, Spice Racks & Gifts
Tags: Christmas, Christmas Chutney, Christmas Gifts, Christmas Presents, Christmas Preserve, Chutney, Cottage Delight, Cottage Delights Festive Indulgence, Cranberry Sauce, Festive flavours, Food Gifts, Herb, Herbs, Preserve, Spice, Spices