Shop
Hi Everyone,
We are very sorry but all our events
are now on hold untill further notice
You can still order from here on our site
As long as the delivery drivers are delivering
we will continue to send the orders out.
STAY SAFE EVERYONE
STAY INDOORS
——————————–
New items now in stock available in 1kg bags these are slowly being added to the online shop.
Ground Almonds, Flaked Almonds, Walnut Halves, Glace Cherries, Apricots, Banana Chips, Plain flour, Cous Cous, Raisins, Sultanas, Dessicated Coconut, Whole Dates.
Plan Flour £2.00 per Kg
Sultanas £4.00 per kg
Raisins £4.00 per kg
Pecan Halves £16.50 per kg
Almonds Ground £9.00 per kg
Almonds Flaked £9.50 per kg
Glace Cherries £5.00 per kg
Dates Whole £4.00 per kg
Banana Chips £5.00 per kg
Apricots £5.00 per kg
Coconut Dessicated £4.00 per kg
Walnut Halves £9.00 per kg
Cous Cous Plain £2.50 per kg
---
Our new range of glass jars.
We are pleased to introduce our new range of glass jars.
Also we are now using colour coded labels.
Green for Herbs, Blue for Salts, Black for Peppers, Red for Chillies & Mustard colour for Spices and Mixes.
They look amazing and will compliment any kitchen. They are aprox 90mm high and 60mm square.
If you would like to order these please just go to the spices/herbs page and order from the drop down box.
They are slowly being added to each product so please bear with us.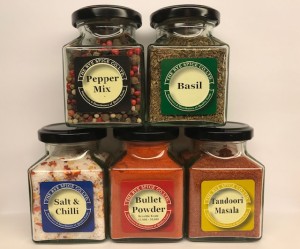 New from The Rye Spice Company the Raj Bisram curry range.