Shop
Hi Everyone,
Our fourth FREE tasting event is nearly here.
Moroccan
29th & 30th June Between 12-3 both days
We will be serving up:
Minted Lamb Tagine,
Raz el Hanout couscous,
Home made Hummus,
Home made flat breads
Roasted salted smokey Almonds
Honey & Almond tray bake.
Dont forget there is a FREE drink with every tasting aswell.
Lots of nice things for the Kids too.
We will also be showcasing our new range of
Raj Bisram's Special Curry Powders
Our new range of glass jars.
We are pleased to introduce our new range of glass jars.
Also we are now using colour coded labels.
Green for Herbs, Blue for Salts, Black for Peppers, Red for Chillies & Mustard colour for Spices and Mixes.
They look amazing and will compliment any kitchen. They are aprox 90mm high and 60mm square.
If you would like to order these please just go to the spices/herbs page and order from the drop down box.
They are slowly being added to each product so please bear with us.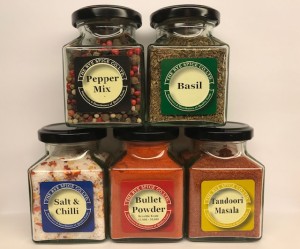 Below is an image of our 3 different size containers.
We sell Large plastic tubs, small square glass jars and a small plastic tub.
This gives you an idea of the sizes when you place your orders.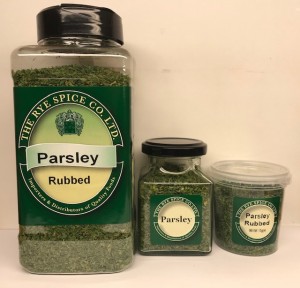 New and only available from The Rye Spice Company the Raj Bisram curry range.