Beef Balti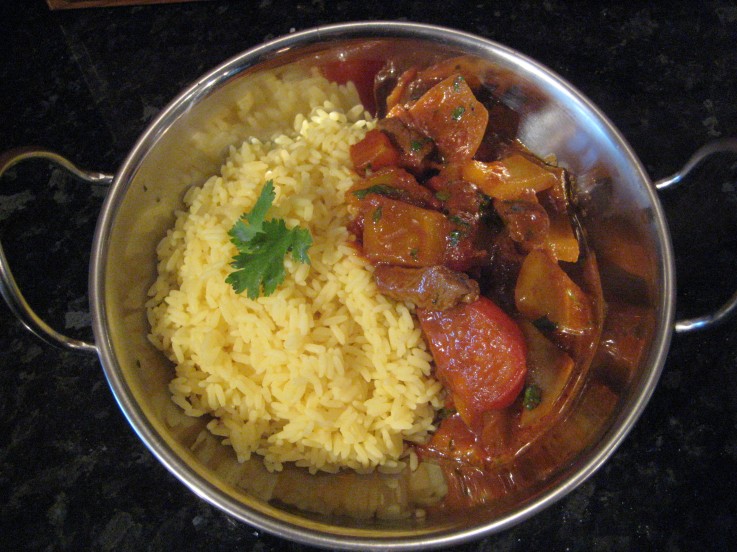 This quick and easy recipe is delicious, serve with Naan Bread or Rice.
Ingredients:
 Method:
Heat 2 1/2 tbsp of the Oil in a large non-stick pan and add the Tomatoes, Garam Masala, Cumin, Garlic, Turmeric, Salt, Ginger, Cayenne Pepper and Sugar.  Cook for 5 minutes stirring all the time over a medium heat.
Add the Water and Fresh Coriander and simmer gently for 15 minutes stirring occasionally.
In the meantime, thinly slice the Beef into 1/2 cm thick strips, toss them in 1/2 tbsp of Oil and season with Ground Black Pepper.
In a seperate non-stick pan heat the remainder of the Oil.  Add the Yellow Pepper and Onion and fry for 3 minutes on a high heat.
Add the Beef and Tomato Pieces to the Pepper and Onion pan and cook for 2-3 minutes for the Beef to brown.
Pour the sauce over the Beef and other ingredients and stir well for 30 seconds.
Serve straight away with Rice or Nann Bread.
---
Categories: Recipes
Tags: Beef, Beef Balti, Cayenne Pepper, Coriander, Cumin, Garam Masala, Garlic, Ginger, Ground Black Pepper, Naan Bread, Oil, Onion, Pepper, Rice, Salt, Steak, Sugar, Tomatoes, Turmeric