Chicken Curry Mini Fillets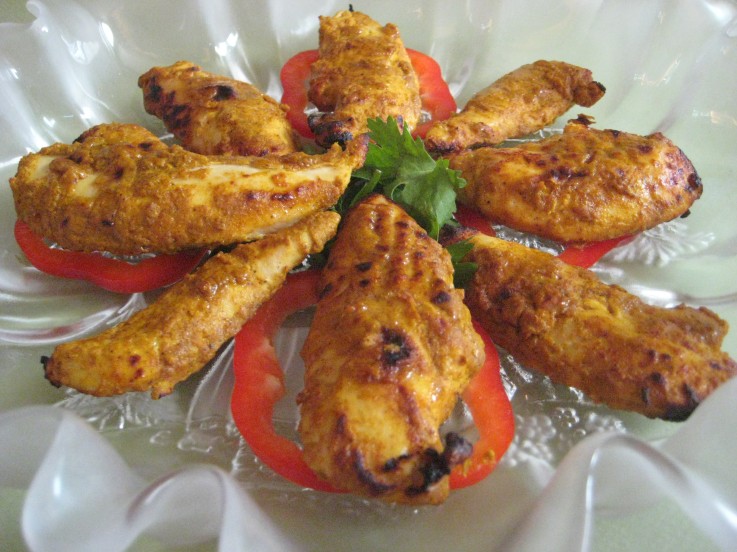 These Mini Chicken Fillets are so versatile and low in fat.  You can use any Curry Powder you like such as Mild Curry Powder, Tikka Masala, Vindaloo, Tandoori Masala, Madras or Korma.  We cooked ours under the grill but you can B.B.Q these too.
Serve with Salad for a healthy option or Chips for a quick dinner! yum.
Ingredients:
2 Tbsp Curry Powder of your choice (we used Mild Curry Powder)
200ml Natural Yogurt
350g Mini Chicken Fillets (approx 8)
Method:
Mix the Natural Yoghurt and Curry Powder in a bowl.
Add the Chicken and make sure it's well covered.  Cover with cling film and put in the fridge for approx 5 hours or overnight if you are preparing for the next day.
Cook under the grill on a medium/low heat for approx 16 minutes turning once or until Chicken is throughly cooked and sauce is changing colour in places. (You may to turn the grill up to brown the Chicken towards the end)
Alternatively soak wooden skewers for half an hour to avoid them burning, thread on the Chicken and B.B.Q until cooked through.
---
Categories: Recipes
Tags: B.B.Q, Chicken, Chicken Curry, Chips, Korma, Madras, Mild Curry Powder, Mini Fillets, Natural Yoghurt, Salad, Tandoori Masala, Tikka Masala, Vindaloo