Christmas Cake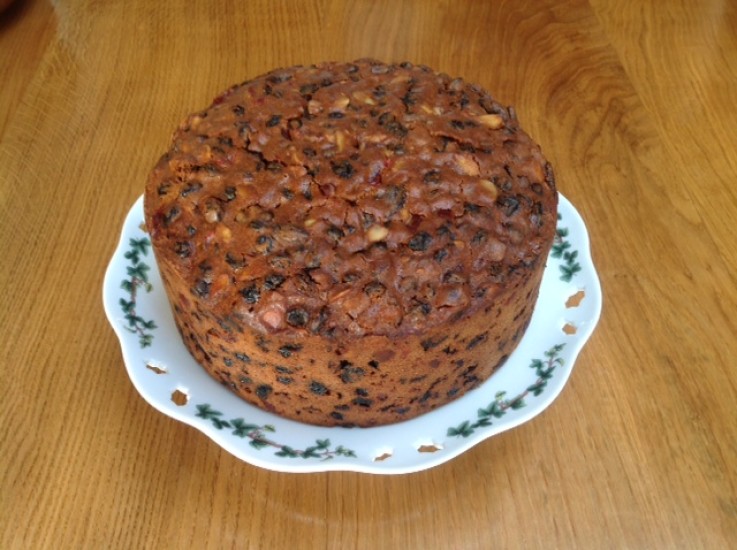 Don't buy your Christmas cake, use our easy to follow recipe for this delicious Fruit Cake.
Ingredients:
Method:
Prepare the Cake tin by greasing and lining with a double layer of grease proof paper.  Place a double layer of brown paper around the tin and tie with string.  We used a deep 8″ (20cm tin).
Mix the Dried Fruit with the chopped Glace Cherries and Flaked Almonds.
Cream together the Butter and Sugar until pale.
Gradually beat in the Eggs a little at a time.
Using a metal spoon, fold in the sifted Flour and the Spices.  Add the Brandy.
Finally fold in the Dried Fruit and Nuts.
Put the mixture into the Cake tin, spread evenly and create a well in the centre.
Bake for 3.5 hours in a pre-heated oven (150 degrees/300 f or gas mark 2)
After 1.5 hours cover with brown paper to prevent the Cake from becoming to brown.
Check the Cake is thoroughly cooked by using a skewer and checking it's clean when removed.
When cooled double wrap your cake in brown paper and store upside down in a cool place.
Feed your cake with 1-2 tbsp of Brandy or Sherry once a week until you are ready to decorate it.
---
Categories: Recipes
Tags: Brandy, Butter, Cake, Christmas Cake, Eggs, Flaked Almonds, Fruit Cake, Glace Cherries, Ground Cinnamon, Margarine, Mixed Fruit, Mixed Spice, Plain Flour, Soft Brown Sugar