Bacon Butty Sauce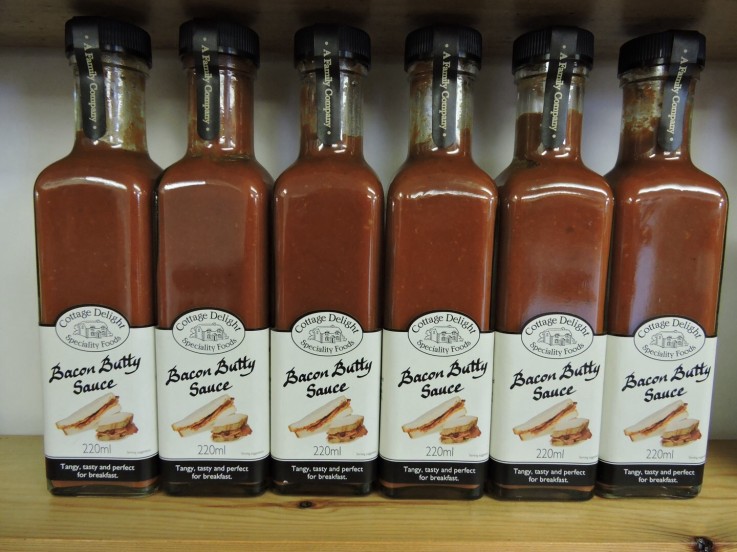 Bacon Butty Sauce
This is a delicious, tangy Sauce made to a secret family recipe.
Cottage Delight Table Sauces are traditionally made in small batches using only the finest ingredients in the Staffordshire Moorlands.
Fruity and tangy our Bacon Butty Sauce is perfectly spiced, the ideal substitute for your usual brown or red sauce with Bacon or Sausage Sandwiches.
Try Bacon Butty Sauce with grilled cheese sandwiches, and it is especially delicious with Welsh Rarebit.
Bacon Butty Sauce Ingredients: Water, Concentrated Tomato Purée, Malt Vinegar (from Barley), Muscovado Sugar, Sultanas (7%), Ground Almonds (Nuts) (5%), Garlic Purée, Salt, Spices.
220ml
Gluten Free, Vegetarian
---
Categories: Uncategorized
Tags: Bacon, Bacon Butty, Cheese, Cottage Delight, Cottage Delight Bacon Butty Sauce, Garlic Puree, Gluten Free, Gluten Free Sauces, Ground Almonds, Muscovado Saugar, Salt, Sauce, Sausage Sandwiches, Spice, Spices, Sultanas, Table Sauces, Tomato Puree, Vegetarian, Vegetarian Sauces, Welsh Rarebit