Balsamic & Madeira Sauce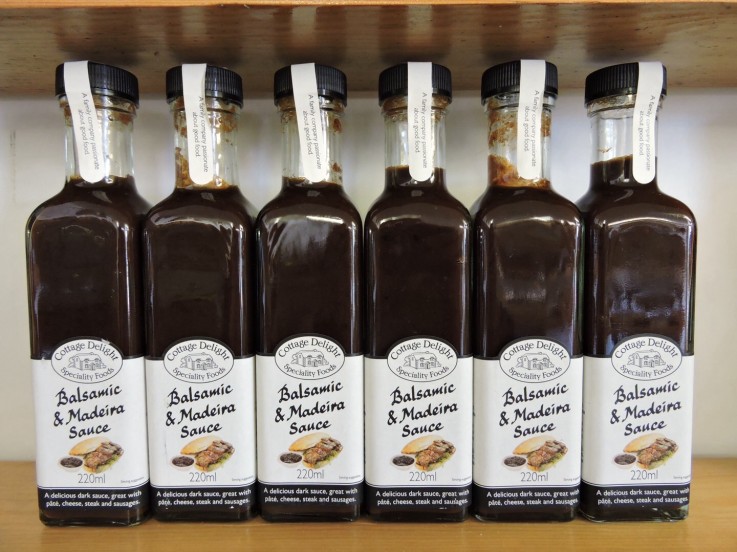 Balsamic & Madeira Sauce
Deliciously rich, dark aromatic sauce made with a special blend of Balsamic Vinegar, Worcestershire Sauce and Madeira Wine.
Cottage Delight's Table Sauces are traditionally made in small batches using only the finest ingredients.
Balsamic & Madeira Sauce is perfect as a marinade or glaze for barbecuing or grilling, and equally good as a pouring sauce with Pâté and strong Cheeses.
Why not try with a Goat's Cheese and vine Tomato Tart, or use to create a Mediterranean style dipping Oil?
A Gold Great Taste Award Winner
Balsamic & Madeira Sauce Ingredients: Sugar, Balsamic Vinegar (15%) (Wine Vinegar, Grape must, Colour: Suphite ammonia caramel, Preservative: Sulphur dioxide), Madeira (12%), White Wine Vinegar, Onion, Concentrated Tomato Purée, Worcestershire Sauce (Vinegar, Water, Malt extract (from Barley), Sugar, Salt, Seasoning (Contains Soya), Wine, Natural flavouring, Yeast extract, Colour: Caramel), Dates (Contain Rice flour), Garlic, Mustard Powder, Concentrated Lime Juice.
220ml
Gluten Free, Vegetarian
---
Categories: Uncategorized
Tags: Balsamic, Balsamic & Madeira Sauce, Balsamic Vinegar, Cheese, Cottage Delight, Cottage Delight Balsamic & Madeira Sauce, Dates, Dipping Oil, Garlic, Glaze, Goats Cheese, Lime Juice, Madeira, Madeira Wine, Marinade, Mustard Powder, Onion, Pate, Sauce, Tomato Tart, White Wine Vinegar, Wine