Peppered Steak Sauce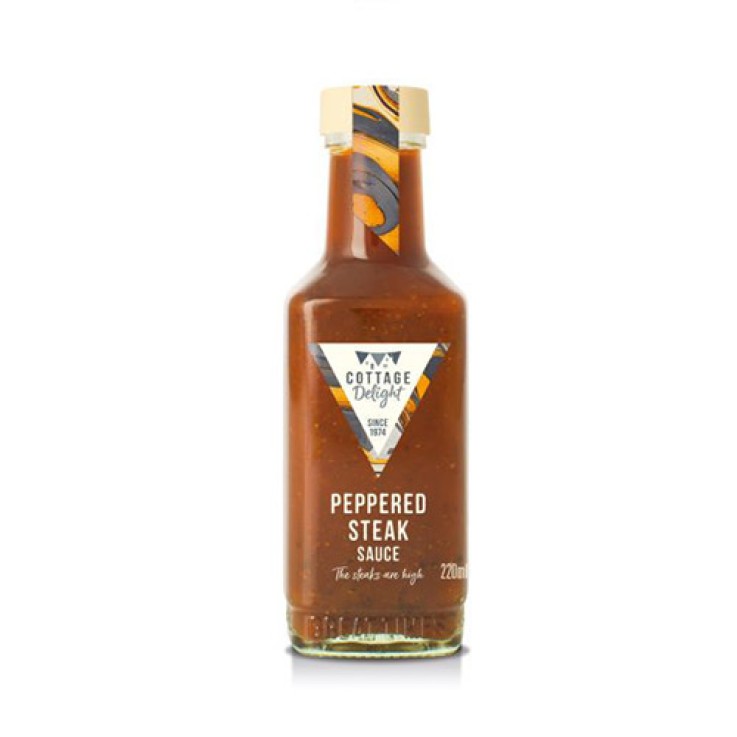 Peppered Steak Sauce
This Sauce contains a special blend of Pepper and Spices, certain to turn up the heat of your favourite Steak.
These table Sauces are traditionally made in small batches using only the finest ingredients at our Staffordshire Moorlands.
Our Peppered Steak Sauce is deliciously rich with a strong peppery flavour made using Wholegrain Mustard and Cracked Black Peppercorns.
Try with grilled Meats and Poultry, as a dip or accompaniment to Meat Pies, or stirred through Gravies and Casseroles for added luxury flavour.
Peppered Steak Sauce Ingredients: Tomatoes, Onions, Sugar, White Wine Vinegar, Dark Muscovado Sugar, Concentrated Tomato Purée, Wholegrain Mustard (Cider Vinegar, Mustard Seeds, Water, Sea Salt), Balsamic Vinegar (White Wine Vinegar, Grape must, Colour: Sulphite ammonia caramel, Preservative: Sulphur dioxide), Cornflour, Black Pepper (1%), Salt, Garlic Purée
Gluten Free, Vegetarian
220ml
---
Categories: Cottage Delight, Sauces
Tags: Balsamic Vinegar, Black Pepper, Casserroles, Cottage Delight, Cottage Delight's Peppered Steak Sauce, Cracked Black Pepper, Cracked Black Peppercorns, Gluten Free, Gluten Free Sauce, Gravies, Meats, Mustard, Onions, Peppered Steak Pepper, Poultry, Sauce, Spice, Spices, Steak, Steak Sauce, Sugar, Tomato Puree, Tomatoes, Vegetarian, Vegetarian Sauces, White Wine Vinegar, Wholegrain Mustard