Tropical Mango, Lime & Chilli Sauce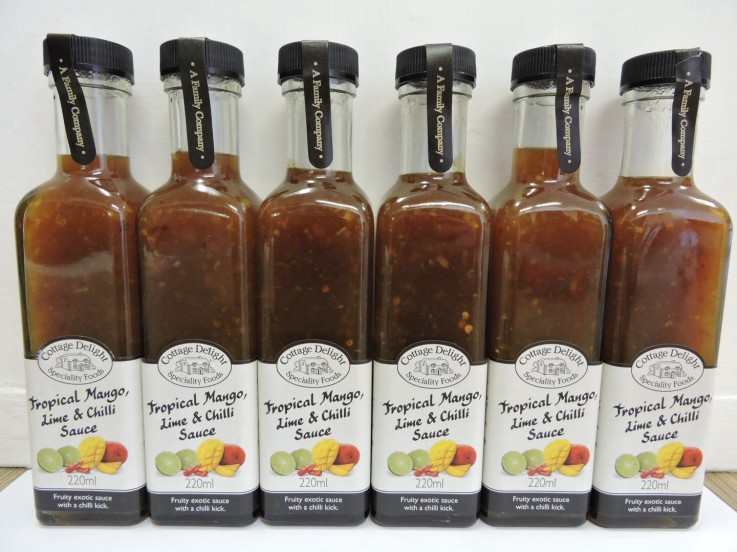 Tropical Mango, Lime & Chilli Sauce
An exotic and extra fruity sauce with a Chilli hit.
All our Table Sauces are traditionally made in small batches using only the finest ingredients at our Staffordshire Moorlands kitchens.
Our Tropical Mango, Lime & Chilli Sauce is delicious as a marinade or basting glaze, or simply enjoy as a dipping sauce with Meat, Fish or Vegetables.
Why not try Tropical Mango, Lime and Chilli Sauce as a spicy and fruity addition to your stir-fries too?
Tropical Mango, Lime & Chilli Sauce Ingredients: Mango Chutney (40%) (Sugar, Mango, Salt, Cane sugar vinegar, Ginger, Raisins, Chilli Powder, Garlic Purée, Ginger Purée, Ground Ginger, Garlic Powder, Caramel), Sugar, Lime Pickle (8%) (Limes, Cotton seed oil, Salt, Mustard, Acetic acid, Fenugreek, Spices), Glucose syrup, Salt, Acetic acid, Chilli flakes, Thickener: Xanthan gum
220ml
Gluten Free, Vegetarian
---
Categories: Uncategorized
Tags: Caramel, Chilli, Chilli Flakes, Chilli Powder, Cottage Delight, Cottage Delight Tropical Mango, Fenugreek, Garlic Powder, Garlic Puree, Ginger, Ginger Puree, Gluten Free, Ground Ginger, Lime, Lime & Chilli Sauce, Lime Pickle, Mango, Mango Chutney, Mustard, Raisins, Salt, Sauce, Spice, Spices, Sugar, Vegetarian