Indian Spiced Ribs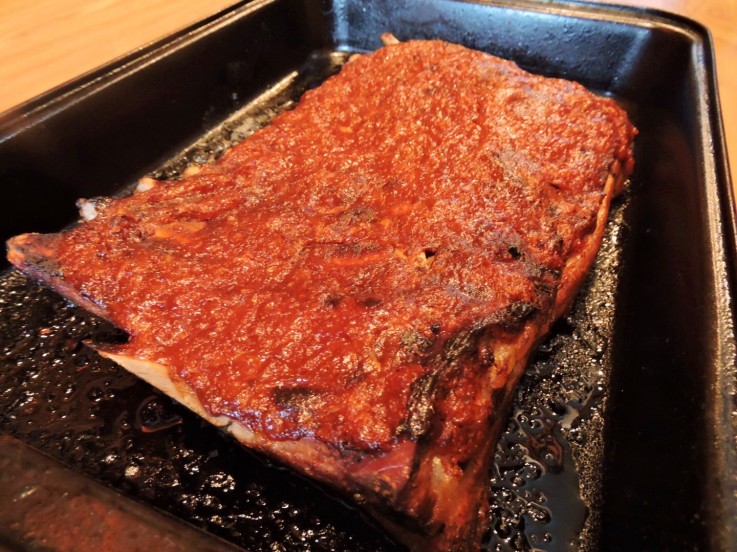 These Indian Spiced Ribs are easy to make and taste great, roll up your sleeves and get stuck in.
Ingredients:

2 Racks of Ribs
Ingredients for Dry Rub:

Ingredients for Sauce:

1 tbsp Garam Masala
3 Garlic cloves crushed
1 tsp grated fresh Ginger
2 tbsp Soft Dark Brown Sugar
2 tbsp Soy Sauce
1 diced Onion
200ml Tomato Sauce
4 tbsp Cider Vinegar
Method:

In a bowl mix the Garam Masala, Garlic Powder, Ground Black Pepper, Fine Sea Salt, Ground Cinnamon and Soft Dark Brown Sugar together to make the dry rub.
Rub the dry rub into the ribs on both sides and place in a baking tray.
Cover the tray with tin foil and cook in a pre-heated oven at 160c / gas mark 3 for 2 1/2 hours.
Add a little oil into a frying pan and gently fry the Onion for 5 minutes.
Add the fresh Ginger and Garlic and cook for a further 2 minutes.
Add the Tomato Sauce, Soy Sauce, Vinegar, Dark Brown Sugar and Garam Masala and stir well.
Cook for another 4-5 minutes until the sauce has thickened.
Remove half the mixture and blend until smooth and then mix together again.
When the 2 1/2 hours is up remove the Ribs and brush on the BBQ sauce.
Return to the oven without the foil, raise the temperature to 200c / gas mark 6 and cook for another 20 minutes.
Enjoy!
---
Categories: Recipes
Tags: BBQ sauce, Cider Vinegar, Fine Sea Salt, Garam Masala, Garlic, Garlic Powder, Ginger, Ground Black Pepper, Ground Cinnamon, Indian Spiced Ribs, Onion, Ribs, Soft Dark Brown Sugar, Soy Sauce, Spice, Spiced, Spiced Ribs, Sugar, Tomato Sauce, Vinegar