Lamb Kofta Curry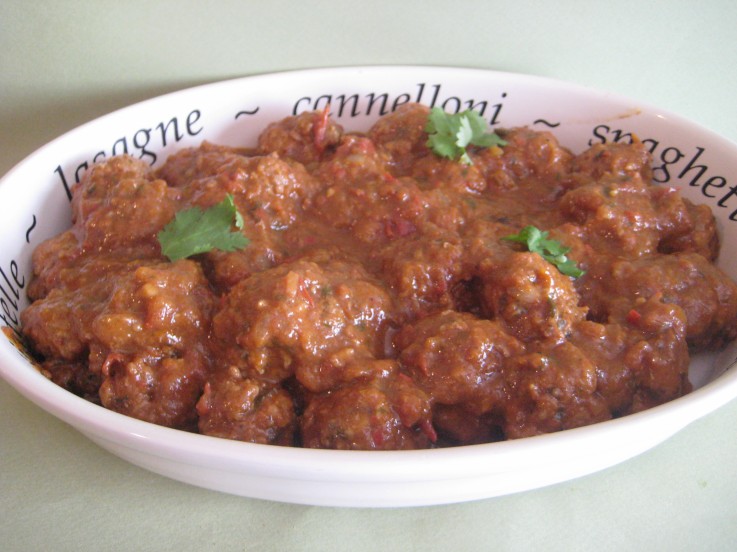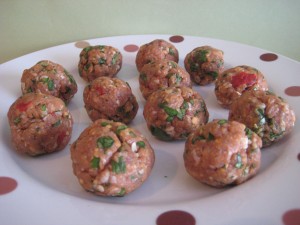 These Lamb Kofta Meatballs in a rich Spicy Curry Sauce are a must at a dinner party/Curry night.
Ingredients for Kofta Meatballs:
Ingredients for the Curry Sauce:
1 Tbsp Garam Masala
1/2 – 1 tsp Chilli Powder
1/2 tsp Ground Ginger
1 Cinnamon Quill or Stick
2 Bay Leaves
Pinch of Coarse Sea Salt
4 Garlic Cloves Finely Chopped
3 Tbsp Sunflower Oil
4 Large Ripe Tomatoes Roughly Chopped
1 Tbsp Tomato Puree
1/2 tsp Caster Sugar
500ml/18fl oz Lamb Stock (made with 1/2 Lamb Stock cube)
2 Onions Roughly Chopped
Ingredients to Serve:
Cooked Rice
Fresh Coriander Leaves
Method:
Put all the Spices for the Meatballs in a food processor (Garam Masala, Chilli Powder, Coarse Sea Salt, Ground Ginger, Garlic Cloves, Fresh Red Chillies). Add the Onion and Tomato Puree and season with Ground Black Pepper.
Mix until it is blended into a smooth paste then add the Lamb Mince and blitz again.
Put the mixture into a bowl, cover and put in the fridge for 3 hours or overnight if you have time.
Now to start on the Curry Sauce.
Heat the Sunflower Oil in a large non-stick pan and gently fry the Onions, Garlic and Ground Ginger for approx 10 minutes until they are soft, stir from time to time.
Add the Garam Masala and Chilli Powder and continue to stir for 30 seconds.
Add the Tomato Puree and Fresh Chopped Tomatoes and stir for 3-4 minutes.
Add a pinch of Coarse Sea Salt, Caster Sugar and the Lamb Stock.
Season with Ground Black Pepper
Add the Cinnamon Quill and Bay Leaves and bring to a simmer.
Cover loosely with a lid and cook gently for 25 minutes, stirring from time to time.
While the sauce is cooking you need to make the Meatballs, you should make them the size of a large marble, the mixture will make approx 30.
When the 20 minute cooking time for the sauce is over, remove the Cinnamon Quill and Bay Leaves.
Blend the sauce with a hand held stick blender or blitz in a food processor (if using a food processor it is best to chill first.
Return the sauce to the heat and add the water (200ml/7 fl oz)
Bring to a simmer and add the Kofta meatballs, cook uncovered for 35 minutes which will thicken up the sauce and allow the meatballs to cook.
Season with Salt and Pepper if you wish.
Serve with Rice and Fresh Coriander.
---
Categories: Recipes
Tags: Bay Leaves, Black Peppercorns, Caster Sugar, Chilli Powder, Chillies, Cinnamon Quills, Coarse Sea Salt, Coriander, Coriander Leaves, Curry Sauce, Garam Masala, Garlic, Ground Black Pepper, Ground Ginger, Lamb, Lamb Kofta, Lamb Stock, Meatballs, Onions, Rice, Sunflower Oil, Tomato Puree, Tomatoes