Potatas Bravas with Chorizo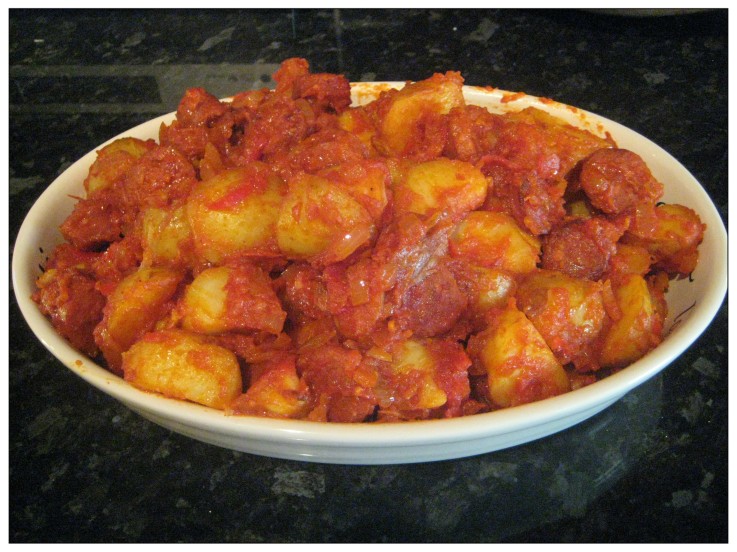 This Spanish tapas dish is really tasty and is great as a party dish for sharing..
Ingredients:
Method:
Heat a little Oil in a pan, fry the Onion, Garlic and Fresh Chilli until the onion softens, add the Cayenne Pepper and Smoked Paprika and stir for a few minutes.
Add the Chopped Tomatoes and simmer, cook the mixture down for about 20 minutes until it's a thick paste.  Season well.
Take half the mixture and blitz in a food processor until smooth, mix together again and set aside.  (You can do all this earlier in the day so the final cooking doesn't take as long if you want to).
Meanwhile, steam the New Potatoes for 10 minutes and put the Chorizo in a frying pan to slowly cook and release some of it's red oil.  Tip off the excess red oil and add 1 Tbsp of Olive Oil.  Add the New Potatoes and fry everything together, turning the heat up as you go so the New Potatoes and Chorizo brown in patches.
Tip into a bowl and pour the hot sauce over, mix well and serve while hot!
---
Categories: Recipes
Tags: Black Peppercorns, Cayenne Pepper, Chopped Tomatoes, Chorizo, Coarse 1800 Pepper, Fine Sea Salt, Garlic Cloves, New Potatoes, Olive Oil, Onion, Potatas Bravas, Red Chilli, Smoked Paprika