Slow Cooker Shoulder of Lamb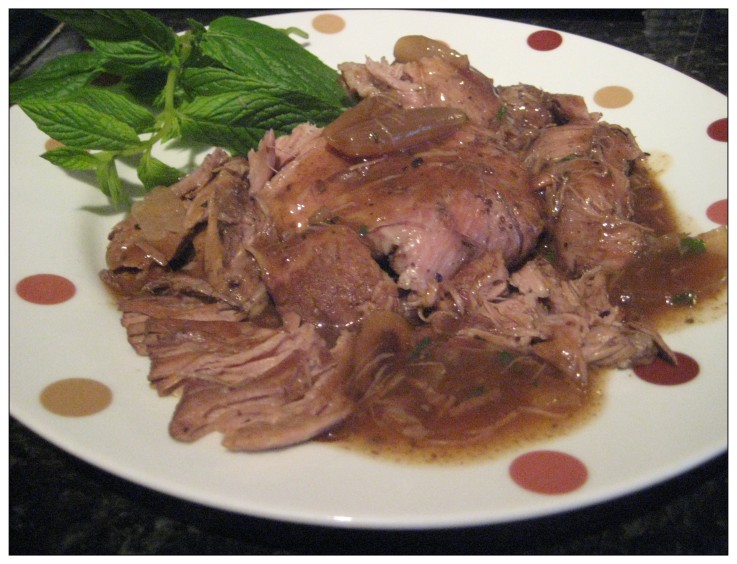 Lamb Shoulder cooked for 8 hours in the slow cooker is delicious and the juices are made into a rich tasty Gravy.  Serve with Roast Potatoes and Seasonal Vegetables.
Ingredients:
1 tsp Mixed Herbs
1/2 tsp Garlic Granules (optional)
1/2 tsp Cracked Black Pepper
1/2 tsp Rubbed Mint
6 Mint Leaves chopped
1kg Lamb Shoulder Joint (get your butcher to de-bone if you wish but keep it with the meat for cooking to enhance flavours)
100ml Red Wine
6 Shallots
225ml Lamb Stock
2 tsp Cornflour mixed with a little water
Method:
 Turn your slow cooker to low and put the Lamb Shoulder in.
Add the Garlic Granules if using, Cracked Black Pepper, Rubbed Mint, Red Wine, Shallots and Stock.
Stir, cover and cook for 7-8 hours, stir from time to time.
When you are 20 minutes before you are ready to serve, remove the Lamb and keep warm.
Turn the slow cooker to high, add the Cornflour paste and stir until the Gravy thickens.
Add the fresh Mint.
Your Lamb will be very tender and should pull apart easily, pour over the Gravy and enjoy!
---
Categories: Recipes
Tags: Cornflour, Cracked Black Pepper, Garlic Granules, Gravy, Lamb, Lamb Shoulder, Lamb Stock, Mint, Mixed Herbs, Red Wine, Roast Potatoes, Shallots, Vegetables