Spice Rack with 24 Filled Glass Jars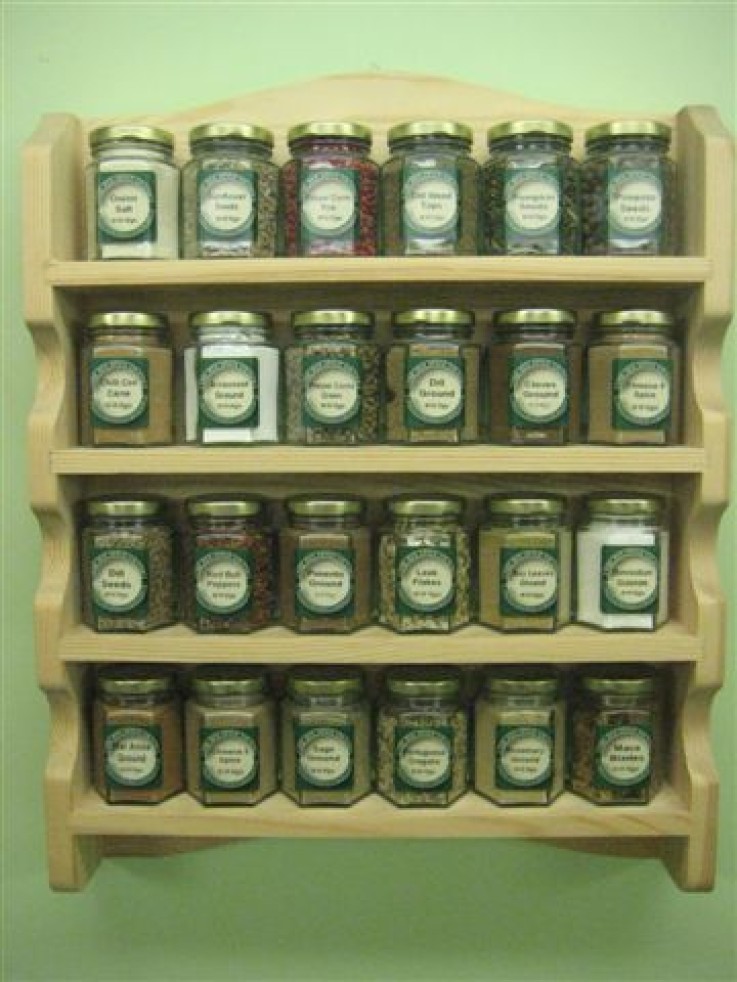 Our Spice Racks contain 24 glass hexagonal jars, which include 8 Spices, 8 Herbs and 8 Seeds for only £43.00
Set includes : Sesame Seed, Mustard Seed, Cumin Seed, Cloves Whole, Black Peppercorns, Whole Pimento, Coriander Seed, Poppy Seed, Mint, Basil, Rosemary, Sage, Thyme, Parsley, Mixed Herbs, Oregano, Tandoori Masala, Paprika, Mild Curry Powder, Ground Ginger, Chilli Powder, Mixed Spice, Chinese 5 Spice, Turmeric.
please note that spice selection may vary, if something is out of stock we may replace it with something else.
Dimentions of each pot: Approx 7.5cm high. Approx 5.5cm wide.
Dimentions of rack: Approx 47cm high. Approx 40cm wide.
The pots are presented in an attractive pine rack and is a must have for any Herb and Spice lover.
Racks and products may vary slightly, please contact us first if you require more information,
Makes a great housewarming or wedding gift.
Have your pots personalised with any name you like for just £2.00 extra!
When you pay for your order just enter the name you require in the "add note" section. Want more than 1 name, then please contact us directly to arrange this.
SORRY OUT OF STOCK
---
Categories: Christmas, Spice Racks & Gifts
Tags: Basil, Black Peppercorns, Chilli Powder, Chinese 5 Spice, Christmas, Christmas food, Christmas Gifts, Christmas Presents, Coriander Seed, Cumin Seed, Ginger, Gluten Free, Herb, Mild Curry Powder, Mint, Mixed Herbs, Mixed Spice, Mustard Seed, Oregano, Paprika, Parsley, Poppy Seed, Rosemary, Sage, Sesame Seed, Spice, Spice Racks, Tandoori Masala, Thyme, Turmeric, Whole Cloves, Whole Pimento