Spicy Mango & Ginger Chicken Salad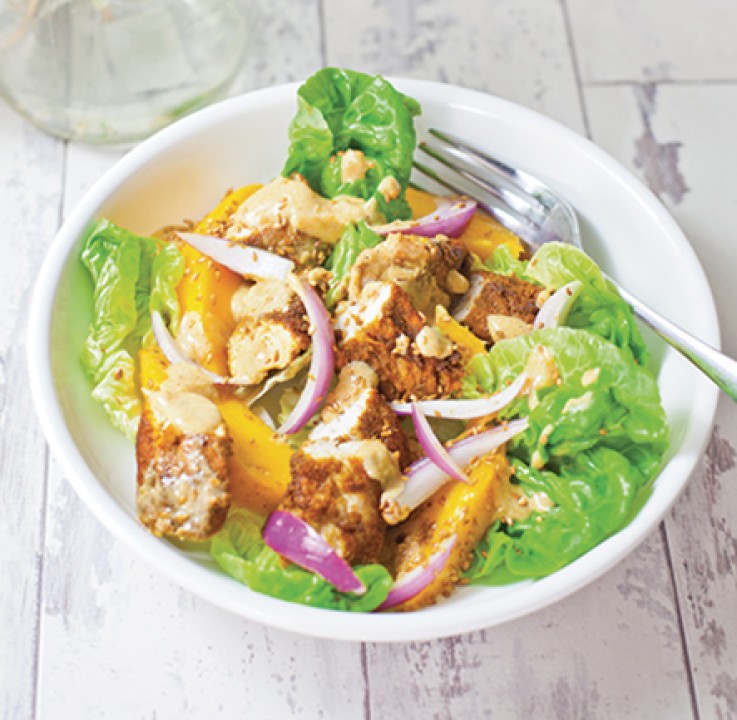 This tasty Salad is a great Spring/Summer dish, perfect for one or to have with your favourite barbecued meats.
Ingredients:

6 Chicken mini fillets
1 tsp Olive Oil
2 tsp Curry Powder
4 tbsp Greek Yogurt
Zest ½ lime and 2 tsp Juice
1 little gem lettuce, leaves separated
1 ripe Mango, peeled and sliced
½ Red Onion, finely sliced
2 tsp toasted Sesame Seeds
Method:

Heat oven to 200°C/180°C fan/gas 6. Mix the Chicken in the Oil with 1tsp of Curry Powder, season and mix well. Place the Chicken on a foil-lined baking tray and cook for 20 minutes until cooked through. Allow to cool and then slice.
To make the dressing, get a bowl, add the remaining Curry Powder to the Yogurt, Cottage Delight Spicy Mango & Ginger Chutney, Lime Zest, Lime Juice and 1tsp of water.
Serve on top of the fresh Lettuce leaves. Add the Mango and Chicken, generously drizzle the dressing and finally scatter Red Onion and Sesame Seeds over the top before serving.
---
Categories: Recipes
Tags: Chicken, Chutney, Cottage Delight, Cottage Delight's Spicy Mango and Ginger Chutney, Curry Powder, Greek Yoghurt, Lettuce, Lime, Lime Juice, Lime Zest, Mango, Olive Oil, Onion, Recipe, Red Onion, Sesame Seeds, Spice, Spices, Spicy Mango and Ginger Chicken Salad, Spicy Mango and Ginger Chutney