Sticky BBQ Chicken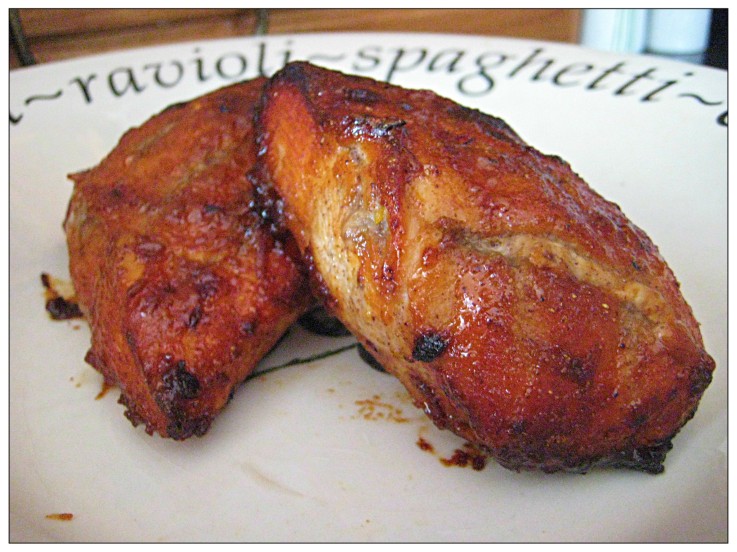 This tasty Chicken dish is great cooked on the BBQ or in the oven.  For another alternative use Chicken Wings or Legs.
Ingredients:
1/2 tsp Ground Ginger
1/2 tsp Garlic Powder
1 1/2 tsp Chinese 5 Spice
4 Chicken Breasts
2 tsp Dark Soy Sauce
3 tbsp Orange Seedless Marmalade
1/2 tsp Grated Orange Zest
1 tbsp Sesame Oil
2 tbsp Clear Honey
 Method:
Put the Chicken aside and mix all the ingredients together in a large mixing bowl.
Make 3-4 cuts on the top of the Chicken Breasts and add to the bowl ensuring they are well covered in the marinade and set aside for 3 hours or overnight if you have time.
Either cook in an oven on 200C/400F/Gas Mark 6 for approx 50 minutes basting occasionally with the left over marinade or cook slowly on the bbq basting throughout for a lovely sticky treat!  Ensure the juices run clear and the Chicken is thoughly cooked.  If you cook in the oven it can make a mess of your baking tray so a little tip – put tin foil on the tray first.
Serve with a green leafy Salad or Chips.
---
Categories: Recipes
Tags: BBQ, Chicken, Chicken Breasts, Chinese 5 Spice, Garlic Powder, Ginger, Honey, Salad, Sesame Oil, Soy Sauce