Teriyaki Salmon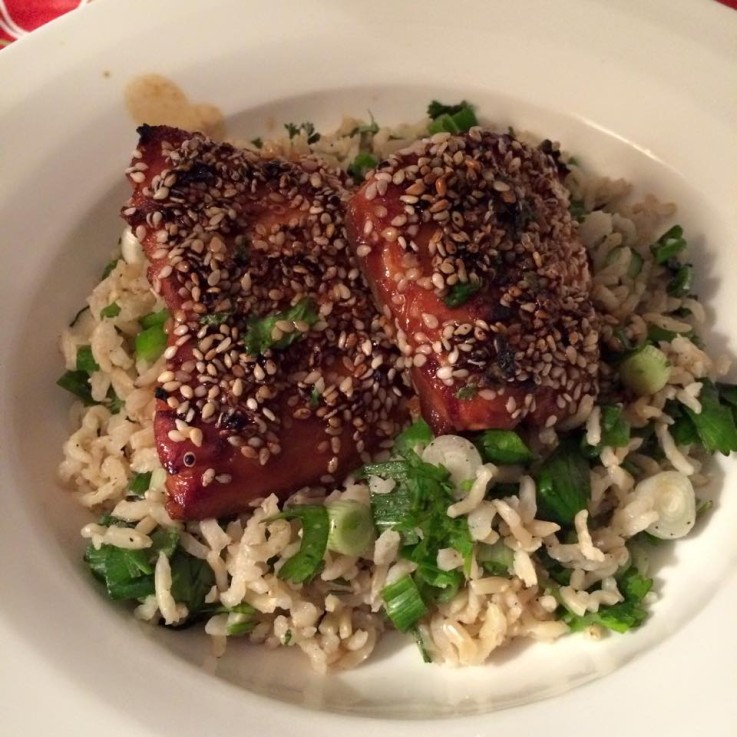 This dish is quick to make and super tasty!
Mix together the Teriyaki Sauce, Ground Ginger, Maple Syrup, Crushed Chillies, a pinch of Sea Salt, a pinch of Pepper and a squeeze of Lime in a bowl.
Put the Salmon fillets in the marinade face down and leave while you cook the Rice.
Boil the Rice from cold water, simmering for about 20 minutes or as per instructions, drian and allow to cool slightly.
Grill Salmon fillets skin up on a tray for 6-8 minutes or until golden brown (basting with the marinade now and then), turn and allow to cook for a further 2 minutes.
Sprinkle with the Sesame Seeds and grill for a further few minutes.
Finely chop the Spring Onions and Coriander and mix with the cooked Rice and add a squeeze of Lime to taste.
Put it all in a bowl and eat!
Thanks to Mr & Mrs Sinclair for the recipe.
---
Categories: Recipes
Tags: Coriander, Crushed Chillies, Ground Ginger, Lime, Maple Syrup, Pepper, Rice, Salmon, sea salt, Sesame Seeds, Spice, Spring Onions, Teriyaki Salmon, Teriyaki Sauce, Wholemeal Rice